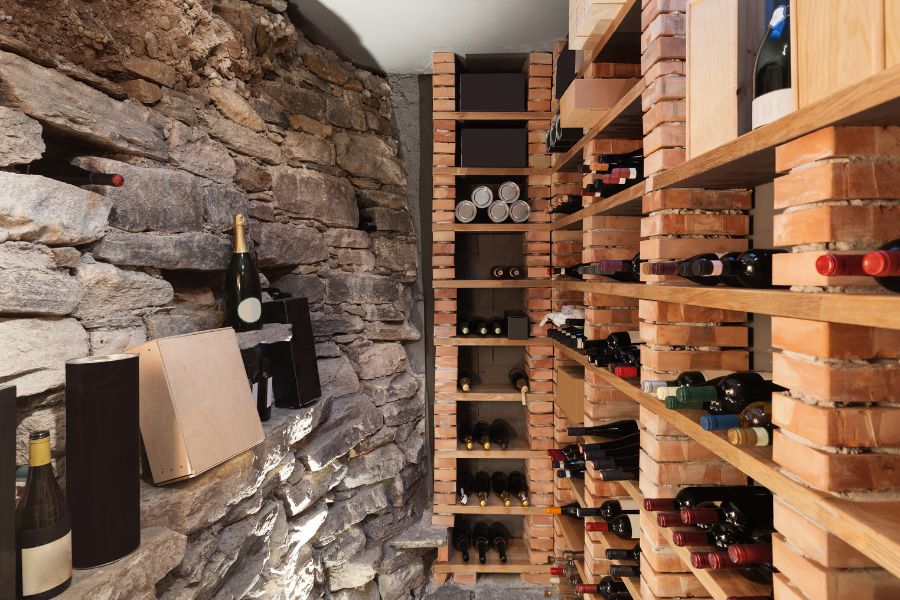 November 16, 2022
5 Amazing Examples of How Custom Woodworking Can Be Used to Create an Incredible Wine Room
If you're thinking about having a wine room installed in your home, then you've got to decide what kind of custom woodworking you're going to need to bring that vision to fruition.
And with the holidays just around the corner, we can almost hear the sound of champagne corks popping, and wine being poured, so now's as good a time as any to start figuring it all out.
But if you're not someone who does custom woodwork design for a living, the whole thing can be pretty overwhelming, and you're probably not even sure what's possible.
At the same time, there are a ton of decisions to make, like where it's going to be located, what kind of wood should be used to build it, or what the design's going to look like, and that's just scratching the surface.
So, if you're thinking about hiring an expert in custom woodworking to build a custom wine room in your home, then you should definitely keep reading.
Because in this article, we're going to look at five examples of how custom woodworking has been used to create amazing wine rooms, and hopefully help you to better understand your options.
Go All Out

If you have the space and the budget to create a truly extravagant wine room, like the one pictured above, then why not go for it?
Not only will it allow you to store hundreds upon hundreds of your favourite vintages for years to come, but you'll also be the envy of any friends, family, and neighbours who are lucky enough to see it.
In addition, a space of this size allows your imagination to go wild, as you're not going to be constrained by spatial limitations, and it's also going to give whatever woodworker you hire the ability to bring practically any design you can think of into reality.
Pick the Best Wood

One of the many benefits of custom woodworking is the ability to choose whatever wood you want.
Experienced woodworkers, like our master woodworker, Andy Ingram, know how to source many different kinds of wood that you're not going to find on the shelf at your local hardware store, and this includes exotic options that you might have trouble finding, even at the lumber yard.
We've found that mahogany and white oak tend to be the best choices for wine rooms, and we always recommend them, but there are all kinds of different options, and the choice is totally up to you.
If you want to learn more about which woods are best for a wine room, and why, you should check out our article on Picking The Right Wood For Your Wine Room.
Choose a Rustic Look

Another reason to opt for a custom wine room is the fact that you can choose any design you'd like.
Whether you want it to look sleek and modern, or old and rustic, the choice is completely yours.
But from our perspective, choosing a rustic look is one of the best things you can do when designing a wine room.
There's just something about the look of unfinished, reclaimed wood, and weather-beaten design elements that truly complements a wine room.
The image above shows a custom wine room we created using very old, repurposed wood, along with old wine barrels, and even a tree stump stool to top it all off.
Make the Most of a Small Space

You may want to install a custom wine room in your home, but that doesn't necessarily mean that you're going to have thousands of square feet to work with.
That being said, over the years, we've worked on some pretty modest wine rooms, including the one shown above, which fit perfectly in this tiny little corner.
You might only be able to fit a few dozen bottles in there, but it's good to know that it can fit into a compact space, and you don't have to own a mansion to actually have a wine room.
So, even if you only have a very small space, if you choose to work with an expert in custom woodworking, they'll know how to make the most of it.
Include Several Kinds of Storage

When you're designing a wine room, more storage is always a good thing.
And when you're working with someone who knows custom woodworking like the back of their hand, the possibilities for storage are pretty much limitless.
There are all kinds of different shelves, drawers, cupboards, racks, and other forms of storage to choose from, so no matter what kind of space you have to work with, or what types of wine you prefer, there will be plenty of storage options to suit your purposes.
For instance, as you can see from the image above, which features one of the smaller wine rooms we've worked on, including a combination of racks and drawers is a great choice.
The racks allow you to show off your most prized bottles, and you can use the drawers to store your more ordinary, everyday wines.
Want to create a custom wine room in your home, but need some help picking the best design? Our master woodworker, Andy Ingram, has over 30 years of experience, and he can answer all your questions. If you want to learn more, give Andy a call at (250) 765-5608 or send an email to truwood@shaw.ca.