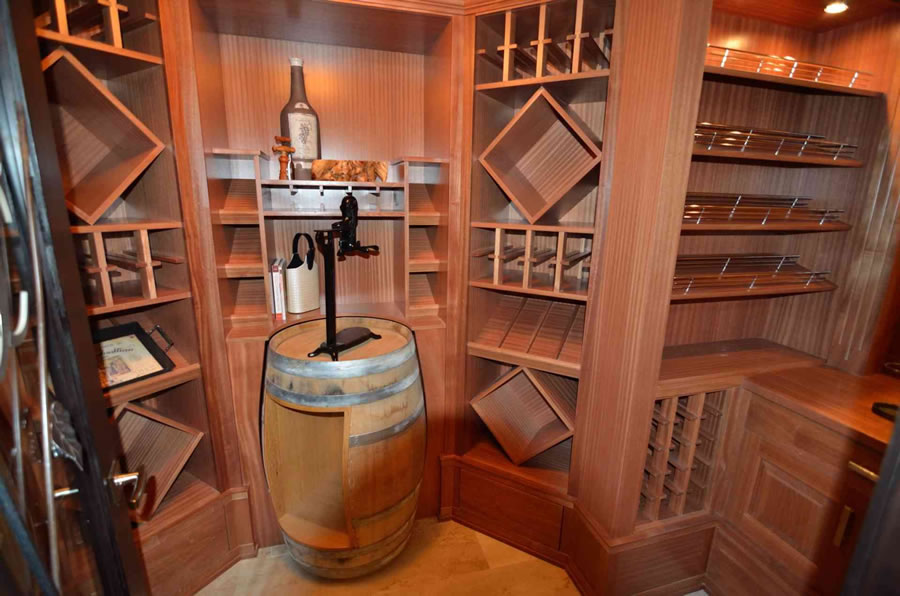 December 11, 2020
3 Things to Consider Before Creating a Custom Wine Room
An incredible wine cellar is about more than just looks. Of course, you want a stunning space where you can share your favourite bottles with family and friends, but it's essential to create a controlled environment. 
Otherwise, your collection can be damaged or ruined. Over time, a poor choice of material or finish can lead to off-gassing into the closed area, which can migrate through the corks and into the wines. 
One of our Kelowna woodworking services is designing these inspired spaces. However, before you get started, here are three things to consider to ensure you end up with a custom wine room that's both beautiful and functional:
Go into the design process with a plan.

First, make a list of your priorities. Some questions you should ask yourself or your design client are:

How many bottles do you want to store?
Will the room require climate control?
Do you need power, a plumbed-in sink, a glass washer and/or glass storage?

Most importantly, where do you want your custom wine room?

It should be located in a temperate- and humidity-stable area of the home, where the collection can be protected from direct sunlight.

Opt for multiple storage options.

Our clients often have a variety of storage requests, from displaying an elegant bottle of Château Margaux to storing a case of "everyday" wines out of sight.

Take a look at your collection to get an idea of what storage you'll need for:

Bottles that will stay put long-term
Easily accessed wines you'll be pouring more frequently
Identical bottles that don't all need to be displayed
Special occasion bottles that deserve more prominence

This will help you decide how many options you'll need to store bottles standing up, laying flat, angled and in displays.

Decide between blending in and being bold.

Maybe you're dreaming of a rich, opulent cave or a replica of a cozy English tavern you love. Perhaps you want a sleek ultra-modern space or have grand ideas of creating a French monastery in your basement. 

If you can dream it and it can be made of wood, we can build it! So, think about whether you want your custom wine room to blend in with your home's existing design, or to have a separate aesthetic that makes a big statement.

Again, a gorgeous appearance isn't the only design consideration. The interior furnishings and millwork will be different, depending on whether or not you need a climate-controlled environment for your collection.

For example, non-climate controlled rooms can be upgraded with the addition of a built-in or standalone cooler of any size. 

Also, if you're thinking beyond bottles, we can build a humidity-controlled humidor to store cigars. One of our Kelowna woodworking clients even asked us to design custom humidity-controlled millwork for cannabis storage.
If you need a reason to build a custom wine room, here's a great one: this is the Okanagan!
There are so many wineries here that you could fill a huge room with just one bottle from each of them.
Life should be savoured, and having a luxurious area where you can unwind—and uncork—is a wonderful addition to any home. Contact us to learn more about our Kelowna woodworking services.