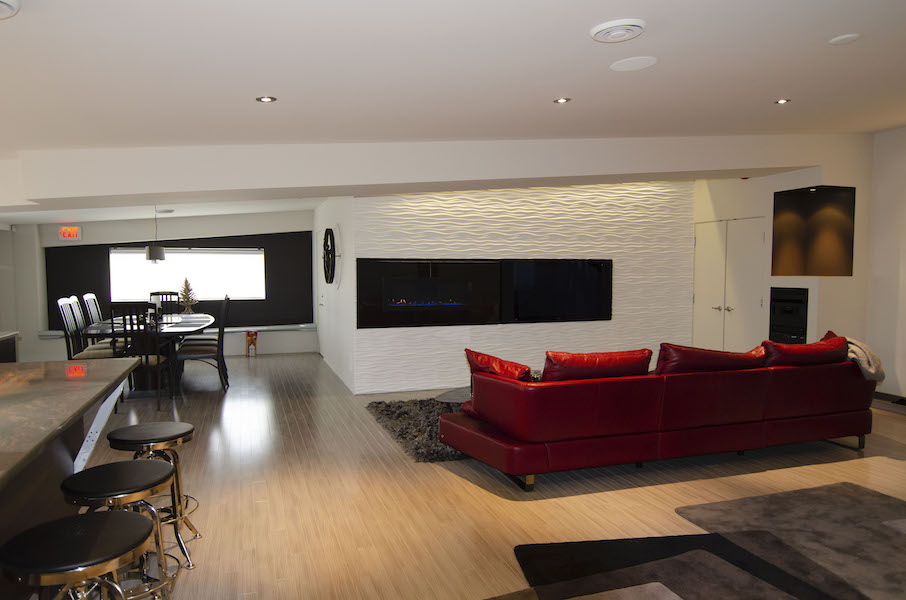 March 3, 2021
How to Build the Perfect Custom Media Room
Looking to bring the movie experience into your living room? Do you have the space and a dream of a dedicated theatre room? Maybe you love having movie nights with the family, or watching the game on a big screen with a few friends and, especially in this age of Covid 19, we're all trying to stay home and stay safe.
The good news is: with a little planning and an expert installation, you'll end up with an incredible space where you can enjoy your favourite movies, TV shows and games with theatre-quality visuals and sound.
I've got 4 tips to help you transform an uninspired area into an incredible home theatre room:
Choose the right space

This is so important! Think about:

The room's location: For example, you don't want to pick a high-traffic area near the kitchen, where the sound of the dishwasher will interrupt your viewing and listening experience. If you don't have the luxury of a dedicated room or want to integrate your media into another living space, consider these questions:

Do you want your entertainment space to stand out as a design feature, or do you want it to blend in with your room's decor and disappear when the screen is turned off?
Do you want to be able to see and hear the TV from other spaces like the kitchen or is it better to locate it so that it is less intrusive?

How much natural light the room gets: If there's going to be a lot of sunlight streaming in, you'll need to consider blackout curtains or other window coverings.
The wall materials: Concrete walls can be really bad for sound. If you can, choose a room with drywall, or consider acoustic paneling.
The shape of the room: A perfectly square room may look symmetrical, but it can cause sound distortion. A rectangular room is ideal for sound quality—although there are fixes if a square room is all that's available.


Get technical.

It goes without saying (but we're saying it anyways!) that the visual and sound quality will make or break your custom media room.

A good home theatre room will have an audio-visual (A/V) component rack as the "control centre," where you'll keep your DVD or BluRay player, cable box and/or or streaming device and so on.

You'll have to place your A/V component rack near an outlet where it's easy to keep wires tidy. However, there's more to it than just aesthetics: your A/V rack needs to be well-ventilated to avoid overheating.

Fortunately, in addition to providing all your custom woodworking services in Kelowna, we can work closely with the professionals who are providing your technical equipment for a seamless integration.

Create an unforgettable viewing experience.

The main attraction is the display screen, so take the time to research the best possible TV or projector for your space.While many people think that bigger is better when it comes to screens, that's not always true. For example, if you have a smaller space, a projector might be a better choice than an HD flat screen.

Consider how far back people need to sit to view comfortably, and calculate the dimensions of your home theatre for optimal viewing angles and distances.

Set the scene with design

Are you going for old-Hollywood glamour, with black-and-white framed posters along the walls? Or, are sports pennants and jerseys more your style?

No matter what decor you're going for, let us take care of the timeless custom woodworking design! We can do all of the following (and more!):

Build a beautiful, durable in-wall entertainment centre for your screen and A/V components
Create sound-absorbing wood ceilings with built-in lighting, built in projector lifts and dro- down screen millwork.
Cabinets can include spaces for concealed speakers, display cabinets and integrated lighting.
Design a cool family "snack station" or bar area for grown-up guests
Like wine rooms, theatre rooms and media spaces require planning and special considerations to make the most of your investment.
Truwood can help you choose the design and finishes to suit your inspiration and create breathtaking wood design with all the tech properly integrated.
You'll be enjoying the latest movie or cheering on your favourite team with your family and friends in the safety and comfort of your own home in no time. Pass the popcorn!
Contact us today to learn more about our custom woodworking services in Kelowna.