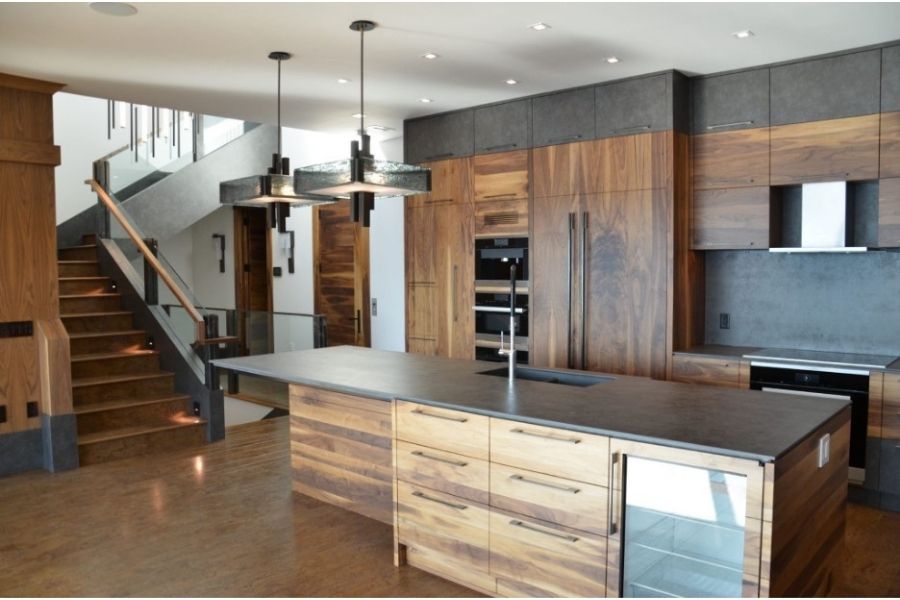 June 8, 2021
What Wood Is Best For Kitchen Cabinets?
The kitchen is the most lived-in area of your home, and your kitchen cabinets may be the most used area of your kitchen. That means that they should be both aesthetically pleasing and durable, able to endure heavy daily use and exposure to moisture, chemicals and sunlight.
The best wood for kitchen cabinets depends on your budget and usage, as well as your personal style. That said, people overlook the interior of their cabinets, and that's where wood choice is most important. Cabinet interiors should be made with high-quality birch plywoods.
If you'd like your kitchen cabinets to be the perfect blend of beauty and functionality, ready for all that your family can dish out, keep reading.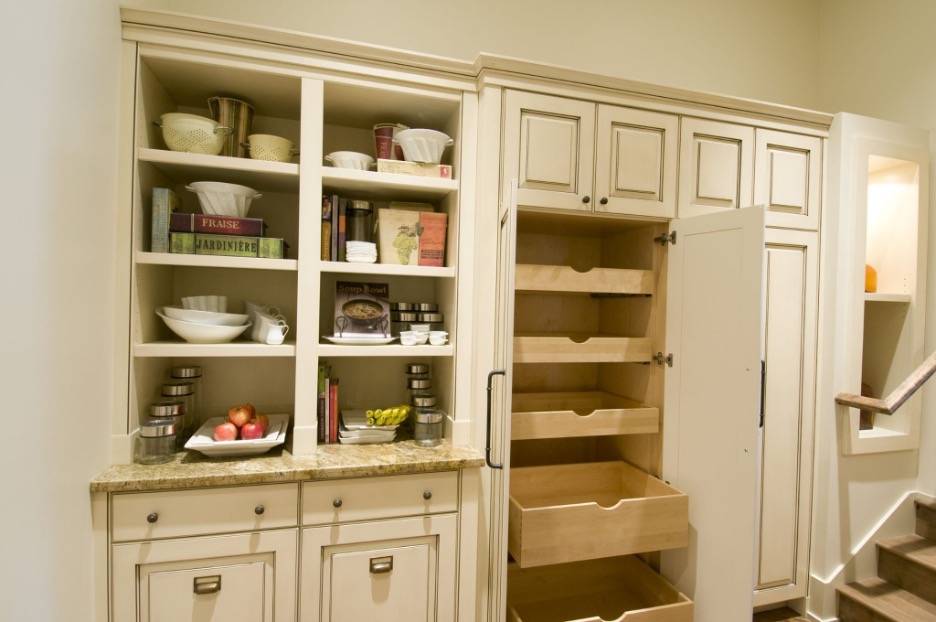 The Best Materials For Kitchen Cabinet Interiors
It's no surprise that most people are focused on kitchen cabinet doors – these are what you see. But what you don't see as much is just as important. As any master woodworker worth their salt will tell you, the materials used for kitchen cabinet interiors play a big role in their longevity.
Melamine has been the go-to material to make cabinets and drawer boxes. This is because it's cheap and relatively easy to care for. However, the benefits end there, which is why it's not a product we typically use for our clients.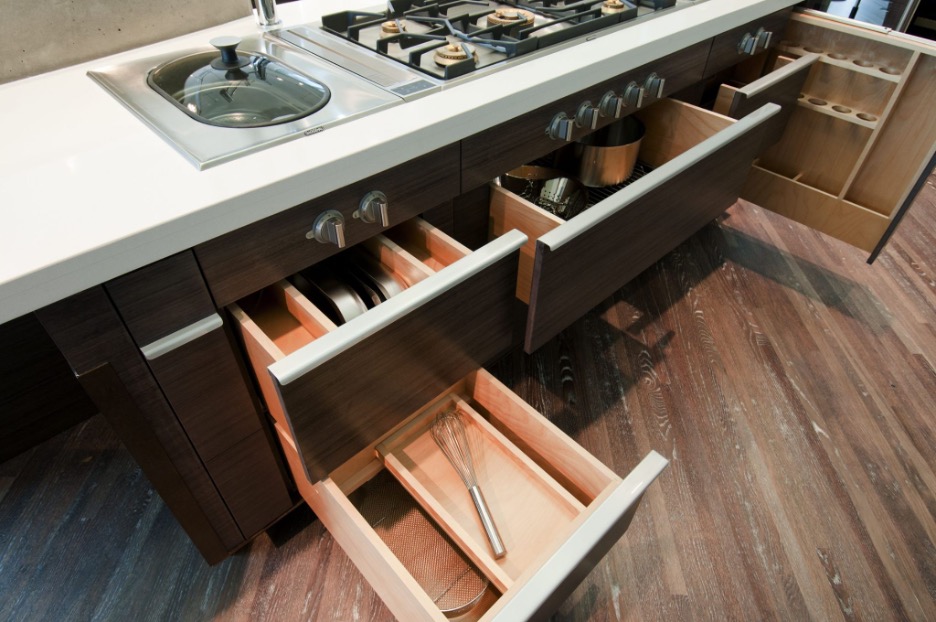 When building kitchen cabinets, think about the daily wear and tear they'll need to withstand.
Remember, melamine is a fancy word for particle board because it is essentially sawdust held together with resin. Yes, it's inexpensive, but it's inexpensive for a reason.
Kitchen cabinet interiors made with melamine are often much more short-lived than their owners hope for. The constant stresses caused when doors and drawers are constantly open and shut causes the melamine particles to break apart. This in turn allows the hinge and drawer fasteners to loosen, and the doors to sag and lose their adjustment.
Thankfully, recent innovations in pre-finished panels have opened up some wonderful new options for kitchen cabinet interiors, solving the melamine-dilemma.
Today, the best materials for kitchen cabinet interiors are very high-quality birch plywood. These available in either white melamine finishes or lacquered birch veneer. Depending on your needs, either of these is a great choice, offering impressive strength and durability, as well as easy maintenance.
Notably, plywood has much better screw-holding ability than melamine/particle board, as well as greater resistance. It's why plywood boxes and drawers are now our company standard for kitchen cabinet interiors.
While plywood is slightly more expensive than particle board, the price is far outweighed by the greatly increased longevity of the kitchen cabinets. It's true what they say: you get what you pay for, and paying slightly more for better materials means you get a much longer-lasting, higher quality product. And kitchens should be built to last.
The Best Materials For Kitchen Cabinet Doors
Kitchen cabinet faces can be made with any one of a wide variety of materials, such as painted or stained wood or melamine in any number of finishes (like wood grain, or solid colours in either matte or high gloss). Even metal and stone can be used to make truly one-of-a-kind designs. The best material depends on your tastes, budget and usage.
For young families, we often recommend a durable finish like a wood-grained or solid coloured melamine. Choose solid colours for a sleek, modern look, or a textured wood-grain finish which is excellent for hiding the tiny fingerprints of mini 'chefs in training.' Don't worry: embossed woodgrains have become so realistic that it's virtually impossible to tell it's not real wood, even though this material is quite budget-friendly.
Slab style faces also offer ease of cleaning, while wood grain textures are good at hiding the inevitable minor bumps and scratches.
If it's luxury you're after, solid wood is always a great choice. Wood-framed doors are always in style, fitting beautifully with either traditional, transitional or modern style homes. Whether you prefer a simple shaker-style flat panel, a raised panel or applied mouldings, either painted or stained, there are so many stunning styles to fit every budget.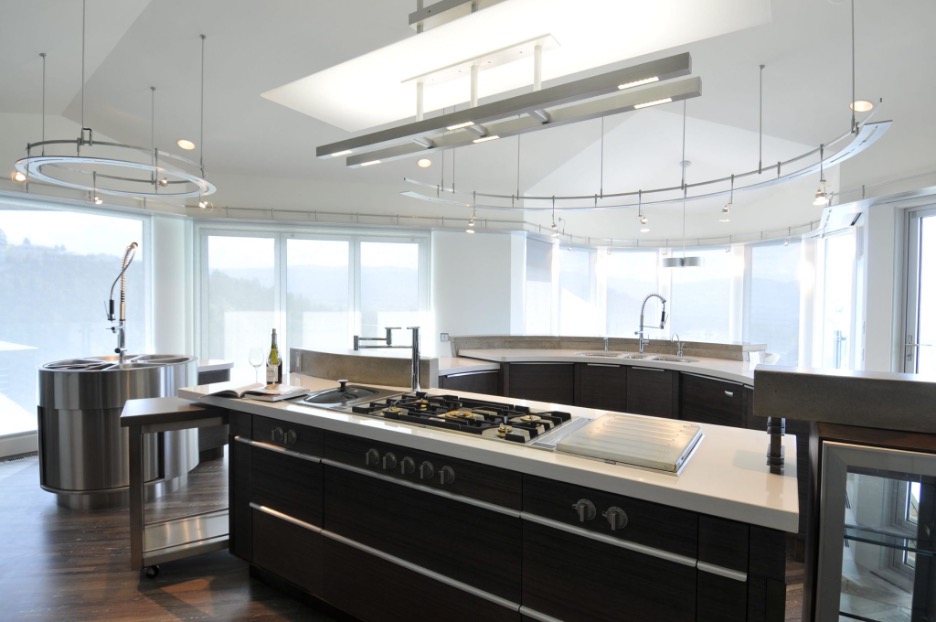 With the right material choice, your kitchen cabinets can match any style.
Some of our favourite solid wood choices for kitchen cabinet exteriors are:
Alder, which is well suited for a traditional 'distressed' look. Note that while beautifully grained, alder is a slightly softer wood.
White oak, beach maple and walnut are harder woods which are always in style.
Imported hard woods like mahogany, Ipe and Jatoba are also stunning where budgets allow.
At Truwood, we offer painted doors with solid maple frames, and stained or clear-coated doors in virtually any wood type, colour and style. And we build our kitchen cabinets to last.
To get started on your kitchen project in the Kelowna, BC, area, please contact us at 250–765–5608 or email truwood@shaw.ca.