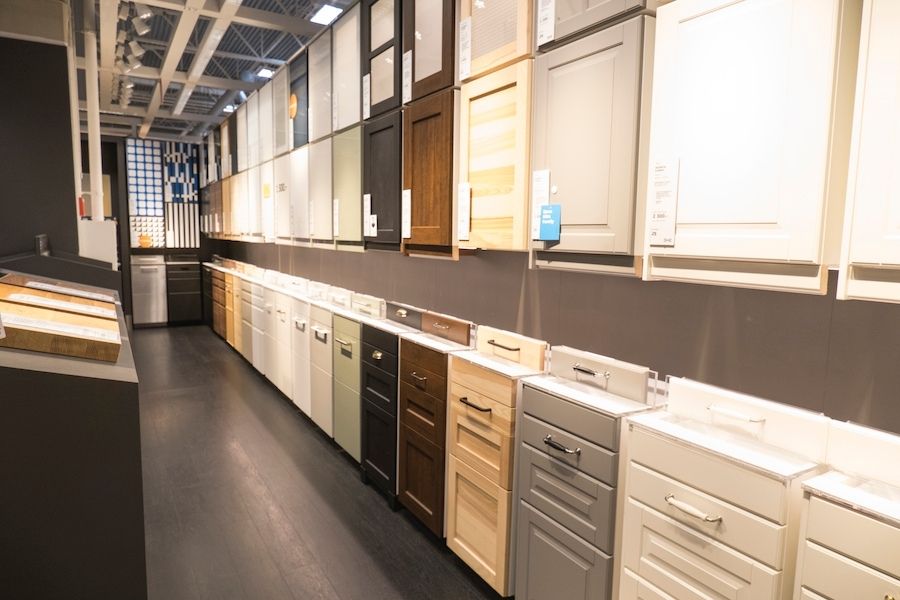 April 20, 2022
4 Tips for Renovating Kitchen Cabinets
When you're renovating your kitchen, one of the most important things to consider is your cabinets.
They're your main source of storage, and they act as a focal point of the room, helping to bring all the elements of your kitchen together.
If you choose the right kitchen cabinets, they can provide functionality, efficiency, and beauty, making everything you do in the kitchen easier, and enhancing the look of everything around them.
Choosing the wrong ones can have the opposite effect, making your work in the kitchen even more difficult, and detracting from the beauty of your décor.
But there's no one-size-fits-all type of kitchen cabinets that will be the right choice for every kitchen.
What's going to be right for your kitchen can only be determined by your individual tastes and unique needs.
That being said, choosing the right kitchen cabinets requires a lot of careful consideration and planning.
So, if you're trying to come up with a kitchen renovation plan, this article will offer some tips for renovating kitchen cabinets, so you can be sure you're making the right decision and not overlooking anything.
Tips for Renovating Kitchen Cabinets
1) Organization
Before you consider anything else, you should think about how you want your kitchen to be organized.
Where do you want your utensils? What about your appliances?
And which of these items are you going to store in your cabinets?
It might sound silly, but this aspect can literally make or break the functionality of your kitchen.
For instance, if you prefer to store things like pots and pans close to the stove, and you forget to explain this to the contractors who are renovating your kitchen, you might end up having to put them in a cabinet that's halfway across the room, and this can really throw things off when you're cooking.
If you want to avoid this kind of situation, try to sketch out a diagram of exactly where you want your kitchen cabinets, and make sure to relay this information to whoever's renovating your kitchen.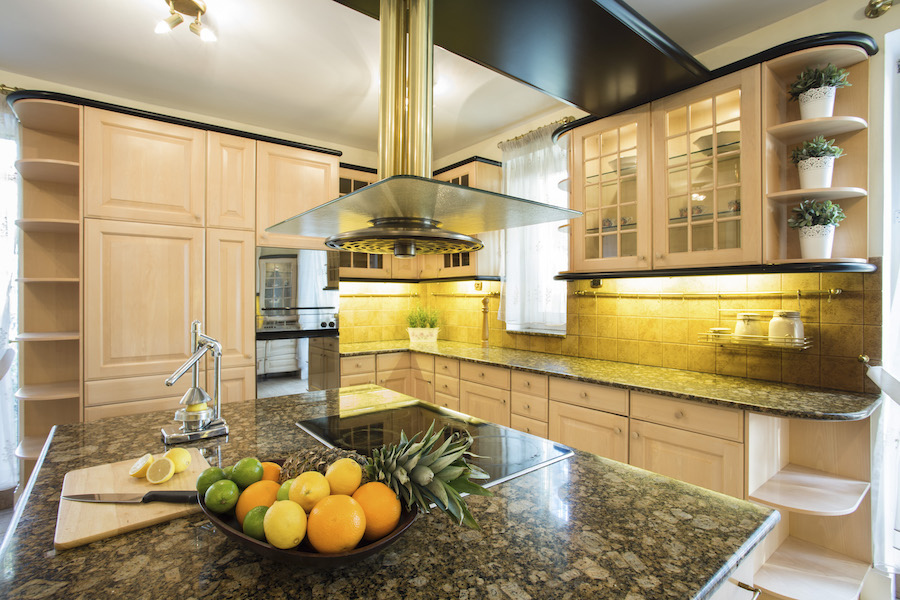 This kitchen features cabinets with a characteristically traditional style.
2) Storage
The next thing to consider is how much cabinet storage you're going to need.
In other words, you need to think about what the dimensions of your cabinets should be.
Look at your existing cabinets, think about what you like about them, what you don't like about them, which ones can go, which should stay, which ones should be bigger, and which should be smaller.
It may not seem that important, but if you want to get the most out of your kitchen, every last inch counts. And when you consider the fact that your cabinets will provide most of the storage in your kitchen, this is absolutely crucial.
So, get out your tape measure and figure out how much room you're going to need in each cabinet.
Then, consult with whoever's renovating your kitchen and figure out if what you're asking for is feasible, and if not, what other options you might have.
3) Materials
Now that you've figured out how you want your kitchen to be organized, and determined how much storage you're going to need, it's time to think about materials.
A lot of this comes down to personal style, but it also has a lot to do with longevity, as well.
Now, If you're doing renovations on a budget, you can always go with melamine.
It comes in all kinds of different finishes, including textured wood grain, which looks remarkably real, to the point where it's nearly impossible to tell it's not wood.
However, melamine is just a fancy term for particle board, and believe it or not, particle board is basically just sawdust stuck together with resin.
This material has been pretty popular over the years because it's so cheap, but it won't last nearly as long as solid wood, so keep this in mind.
If you want something that's going to last a lifetime, solid wood is your best bet.
We recommend woods like alder, walnut, beach maple, and white oak, or even imported woods, like mahogany, although any imported wood is going to be significantly more expensive.
In any case, each wood is going to have slightly different grain, and a unique look and feel, so if you do want to go with solid wood handcrafted kitchen cabinets, make sure to take a look at all your options before making your decision.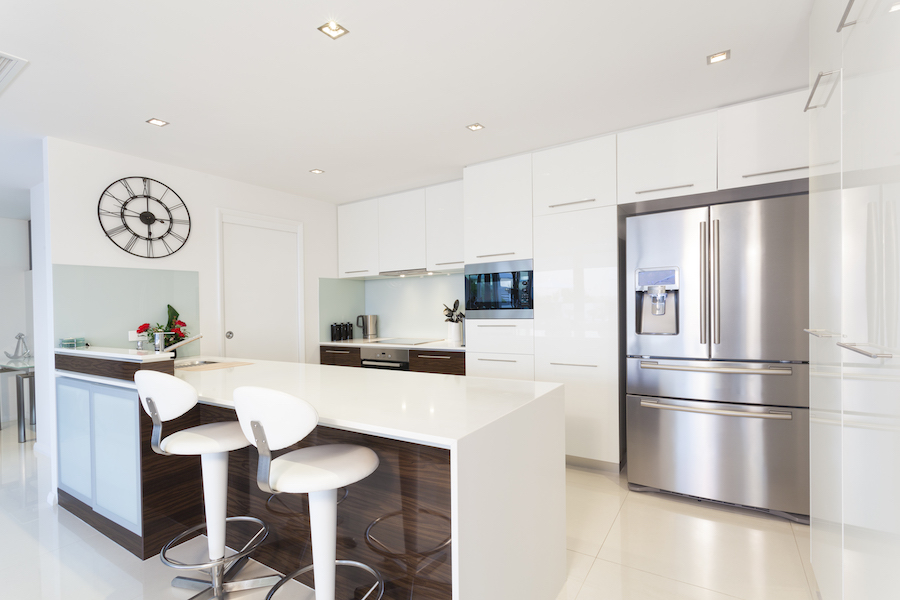 The cabinets in this kitchen have more of a sleek, modern feel.
4) Style
In terms of style, there are a lot of things to consider, and it's good to think about not only the exact look you want for your kitchen, but also how that look might affect the resale value of your home.
For instance, do you want your cabinets to look modern, traditional, or transitional?
Traditional style will stand the test of time and appeal to home buyers for decades to come, whereas modern style is less likely to remain fashionable for any length of time.
Transitional style combines both old and new elements into one, and will probably appeal more to home buyers and age better than modern-style cabinets.
At the same time, there are other aspects of style to consider, as well, including the finish of your cabinets, and what kind of hardware they're going to have.
When it comes to the finish, there are a ton of different options, and depending on which one you choose, you can make your cabinets really stand out, or help them to blend in a bit more.
We'd recommend the raw beauty of natural wood grain, but there's also an infinite number of different colours you can choose from in either a matte or high gloss finish.
Finally, you should consider what kind of hardware you want.
This can be a tough decision, as there are so many different materials to choose from, including brass, bronze, pewter, nickel, stainless steel, ceramic, crystal, glass, and more.
And there are almost as many finishes to choose from, like weathered, satin, burnished, brushed, polished, or painted.
As you can tell, figuring out which style you want for your cabinets can be pretty overwhelming.
So, if you're not quite sure what to choose, ask the person who's building your cabinets for their opinion, or try seeking advice from an interior designer.
Are you looking to have handcrafted kitchen cabinets installed in your kitchen? Our master woodworker, Andy Ingram, has more than three decades of experience, and the ability to bring pretty much any design idea into reality. If you want to learn exactly what he can do for you, give Andy a call at (250) 765-5608 or send an email to truwood@shaw.ca.