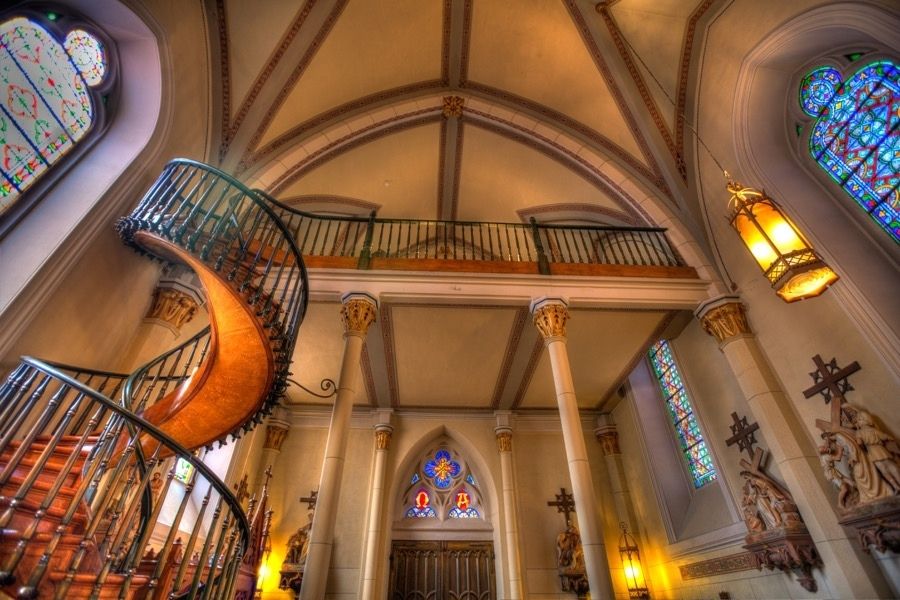 May 18, 2022
One of the Most Amazing Examples of Using Millwork in Interior Design
If you look up the term millwork in the dictionary, you'll get a very vague, broad definition.
The Merriam-Webster.com Dictionary defines millwork as "woodwork (such as doors, sashes, or trim) manufactured at a mill".
While this is a pretty accurate definition, the truth is, when it comes to millwork, there's a heck of a lot more to it than that, and we can't do it justice with such an ambiguous description.
Millwork can be used to create interior and exterior materials for constructing buildings, both for decorative and functional purposes.
There are two main types of millwork, including millwork that's mass-produced, otherwise known as "stock millwork", and custom-made millwork, which is also called "architectural millwork".
Historically, the definition above would suffice, but today, things are quite a bit different than they were when the word was first coined way back in 1865.
During the Industrial Revolution, before the term millwork even existed, this kind of work was done using hand tools, along with water, steam, or foot-powered machines.
The main material used to construct buildings at this time was wood, and that continued until after what was known as the "Golden Age" of millworking, which took place between 1880 and 1910, when practically every component of a home was made from wood.
Over the years, many other materials have taken precedence, not least because of the modernization of building and fire codes, much of which occurred during the late 19th and early 20th centuries.
As a result of the widespread use of so many other materials, and the introduction of modern fabrication methods, today, the term millwork can be used to describe materials made from not just wood, but also synthetic, plastic, and even composites, like melamine.
While the definition of millwork above is still somewhat relevant, in modern times, the term is typically used to refer to more decorative materials, such as moulding, trim, and mantels.
However, it can still be used as a blanket term, encompassing a wide range of manufactured materials, including everything from doors, railings, and staircases, to cabinets, columns, and flooring.
That being said, while the definition of millwork, and the way this work is carried out, have both evolved over the years, the aesthetic appeal of millwork has not faded away.
Using custom millwork is still one of the best ways to beautify and distinguish any structure, and that's likely never going to change.
So, if you want to learn more about using millwork in interior design, then keep reading, because in addition to this little history lesson, this article showcases one of the most impressive examples of custom millwork ever constructed, so you can have a better idea of what this craft is capable of creating.
The Loretto Chapel Staircase: Miraculously Using Millwork in Interior Design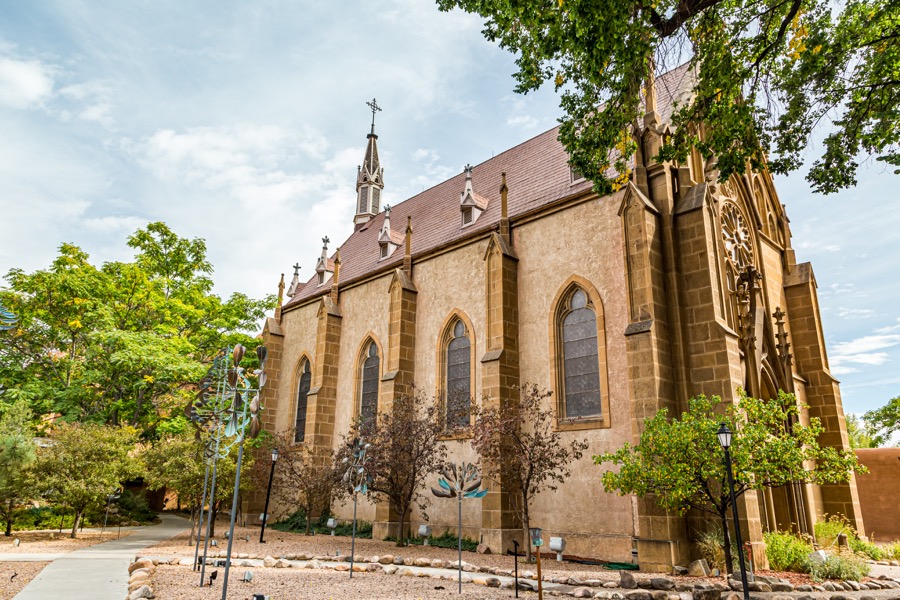 The photo above shows the Loretto Chapel, in Santa Fe, New Mexico, which houses one of the most famous examples of millwork in all of history, and is also one of Santa Fe's most popular tourist attractions.
Constructed around the dawn of millworking's "Golden Age", sometime between 1877 and 1881, the staircase found in this chapel, also known as the "Miraculous Stair", is shrouded in mystery, and the religious convictions surrounding its origins are quite interesting, to say the least.
The story goes that the chapel was lacking access to its choir loft, and even after consulting multiple builders, the Sisters of Loretto were unable to find anyone willing to build a staircase leading up to it, as they felt that the space was too small.
Desperate for a solution, the nuns prayed to St. Joseph, the patron saint of carpenters, for nine days straight, and on the last day, a shadowy stranger randomly showed up and offered to build the staircase.
Apparently, he worked by himself using only a few hand tools, and disappeared shortly afterward, never to be seen again, without so much as collecting his pay or introducing himself to the nuns.
There are various versions of the story, some more far-fetched than others. Some say this mysterious man was able to construct the staircase in one night, while others say it took months.
In any case, the Sisters of Loretto considered the construction of the staircase to be a miracle, and came to the conclusion that it must have been St. Joseph himself who built it.
Miracle or not, the construction of this staircase would be an astonishing feat, even by today's standards. The angle used for the photo below shows just how impressive this staircase is.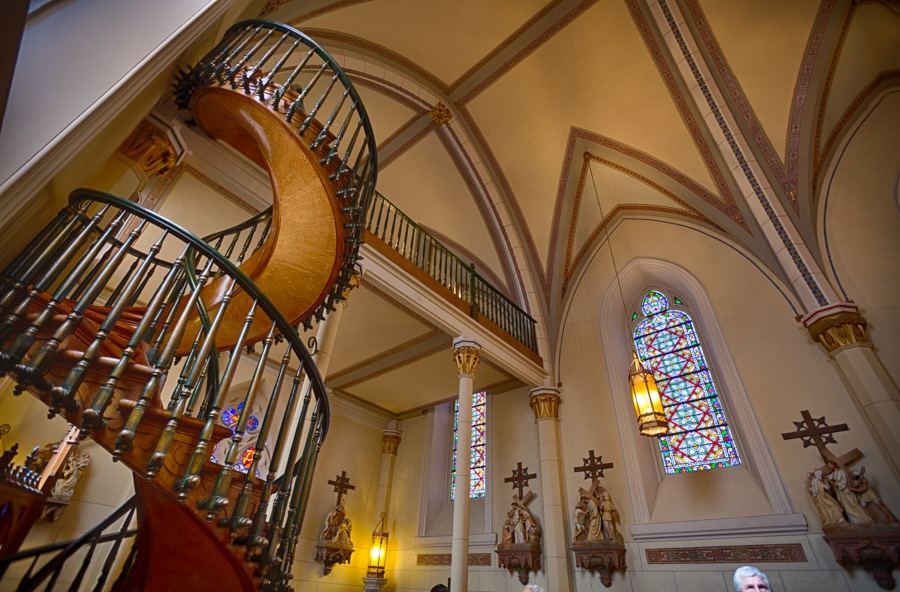 To the untrained eye, it seems to defy the laws of physics, ascending 20 feet up to the choir loft, without any obvious support mechanism.
Typically, this kind of spiral staircase would feature some sort of support column to stabilize it, but the only visible means of support is an iron bracket attached to an adjacent column, which wasn't added until 1887, when the railings were installed, as well.
Truth be told, it turns out the staircase is actually supported by sets of stringers, which act as support structures for most staircases.
However, somehow the builder was able to twist the stringers to conform to the staircase's strange helix shape, hiding the fact that it actually has a solid support structure, and making the stairs look almost as if they're floating in mid-air.
In addition, the staircase was made without using any nails. Instead, it was assembled using nothing but wooden pegs and glue – a deceivingly savvy decision, as this would have actually prevented the degradation of the staircase's joints, which could have been ruined as humidity and temperature changes caused the wood to swell against the nails.
Although it's certainly not practical to have this kind of staircase in your home, hopefully, this example has offered some inspiration to those looking to learn more about using millwork in interior design, and exemplified what's possible when it comes to millwork.
Do you know what kind of custom millwork you want for your interior design? Or are you looking for some guidance on how to use millwork in your home? Our master woodworker, Andy Ingram, has over 30 years of experience, a wealth of knowledge, and the ability to bring pretty much any design idea into reality. If you want to learn exactly what he can do for you, give Andy a call at (250) 765-5608 or send an email to
truwood@shaw.ca
.