December 15, 2021
How to Choose the Right Custom Woodwork Design for Your Closet
Although winter has yet to officially begin, before you know it, it'll be time to start thinking about spring cleaning again. And one of the most annoying things to clean and organize is a closet.
However, if you choose the right custom woodwork design for your closet, you can create a space that not only looks great but is also highly organized and easy to clean.
Whether you have a massive walk-in closet, or a tiny little hole in the wall, our master woodworker, Andy Ingram, can make the most of your space and create something truly unique and superbly functional.
Choosing the Right Custom Woodwork Design for Your Closet
Measure Your Closet Space
This seems like a no-brainer, but before you start coming up with ideas for your closet, make sure to figure out its dimensions first.
This makes it easier for you to determine what exactly can fit in your space, and it's essential if you want to get a quote for your closet design.
For some of you, this might seem laughably easy, but if you're not quite sure what to do, follow these steps:
Get yourself a tape measure and some paper and a pencil, so you can record the measurements.
Measure the wall space. If you have a reach-in closet, you only really have to measure the back wall. If you have a walk-in, take measurements for the side walls and the back wall.
Measure from the door(s) to the back wall to determine the depth of your closet.
Measure from floor to ceiling to determine the height of your closet.
All these measurements are important to know when you're coming up with ideas for your space. They'll also make it easier for us to let you know if those ideas are feasible, or if we might have a better option for you.
If you want to get an idea of what we can do for your space, check out our portfolio of custom woodworking projects.
Think About How You Want Things Organized
One of the first things you should consider when thinking about how to design your closet space is how you want things to be organized.
Do you prefer to store clothes in drawers, hang them on racks, or place them on shelves or in cubbies?
Do you need to make the most of a small space, or do you have an expansive walk-in that will allow for a variety of different designs?
In short, think about how you want your clothes to be organized, but be realistic.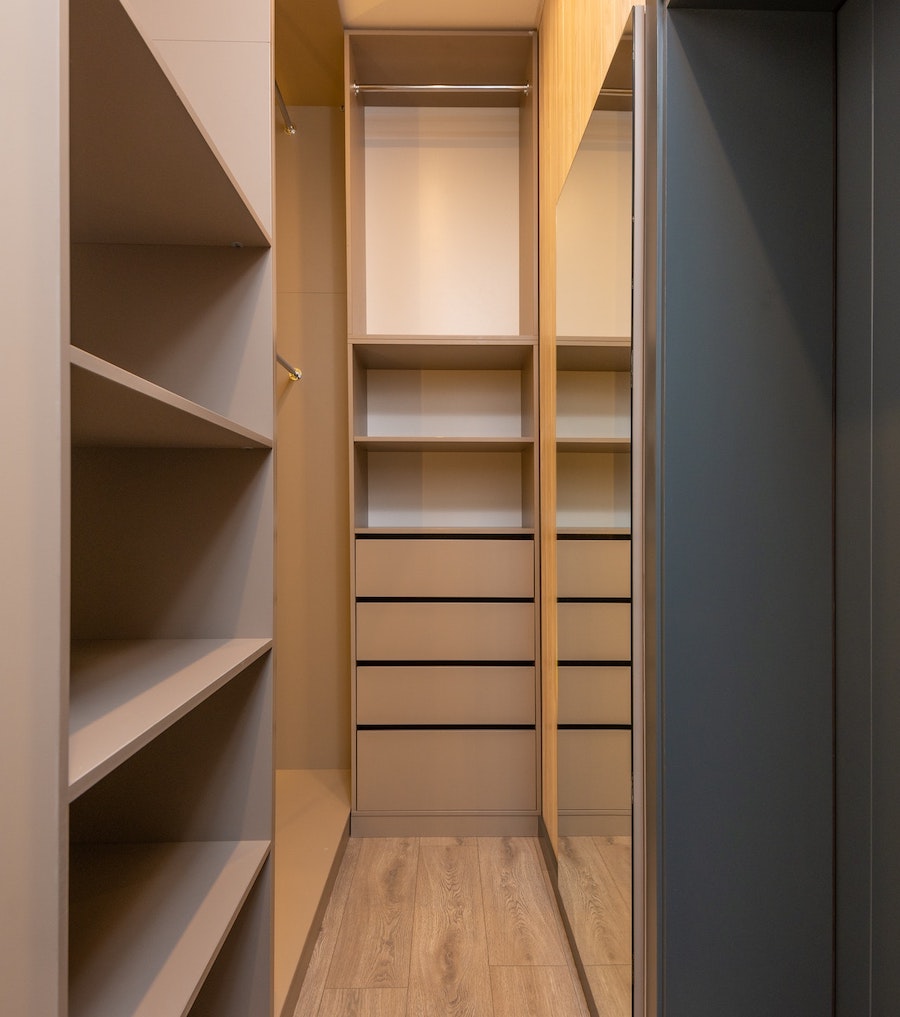 With the right design, you can make the most of any space – even a narrow little hallway like this one.
You're not going to be able to cram anything and everything into a tiny little room. So, if your closet is relatively small, then just go for bare bones. Think about the size and layout of your space and try to focus only on what's most important to you.
But if you do have a large walk-in closet, this can actually be a bit trickier because there are so many possibilities. In this case, take time to consider your options. If you don't have something specific in mind, come up with several ideas, and then narrow down your options until you've made up your mind.
Either way, make a list of everything you want – maybe even sketch out some ideas if you can – and then remove things from the list one by one until you've got something that makes sense for your space.
Choose the Right Wood
Closets can be pretty bland and boring. Typically, they're nothing but white walls, closet rods, and maybe a few shelves if you're lucky.
But they don't have to be that way. Whatever you can imagine – relative to the size and layout of your space – our team can build.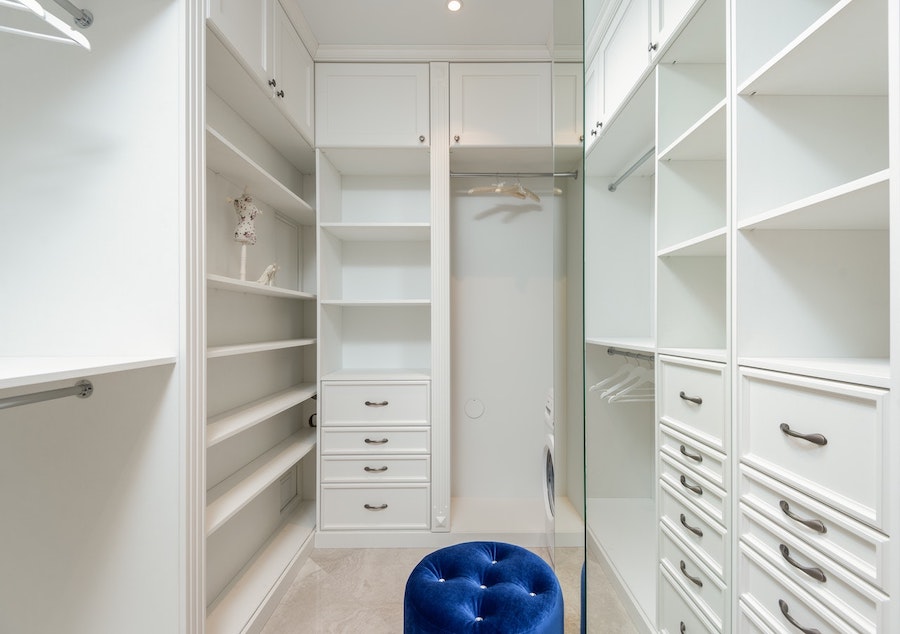 If you want everything to be eggshell white, like the closet above, we can do that.
But if you asked our master woodworker, he'd recommend letting the natural magnificence of wood be the focal point of your closet.
In any case, there are many things to think about here.
Consider whether the warm colours of natural wood are going to complement the space, or if they might clash with your existing setup.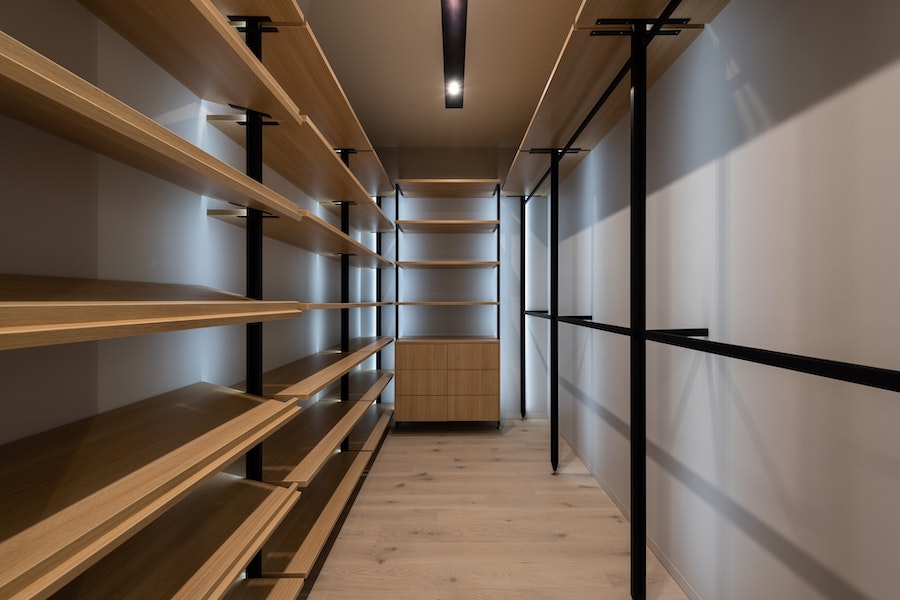 Regardless of what kind of design you choose, picking the right type of wood is essential.
For example, if you do want your closet to feature the beauty of a natural wood finish, red oak is a great choice, as its unique texture and crimson colouring would make a bold statement. If your space has a brighter style, or you just want something a bit more muted, the consistent grain and lighter hue of maple might be a better option.
On the other hand, if you'd rather paint or stain the wood to match your current decor, it might be good to avoid using Douglas fir, as its pronounced grain makes it difficult to stain evenly. In this situation, a better alternative would be white cedar, as its grain tends to lend itself better to painting or staining.
If you're not quite sure what to pick, you can explain to us what you're looking for and we'll let you know which type of wood is best for your design.
No matter what you want for your closet, we have decades of experience and the know-how to make the most of your space and bring your ideas into reality. If you're looking for the best custom woodworking Kelowna has to offer, look no further than Tru Wood Custom Woodworks. Give Andy a call at (250) 765-5608 or send an email to truwood@shaw.ca and let's get started on the custom woodwork design for your closet.