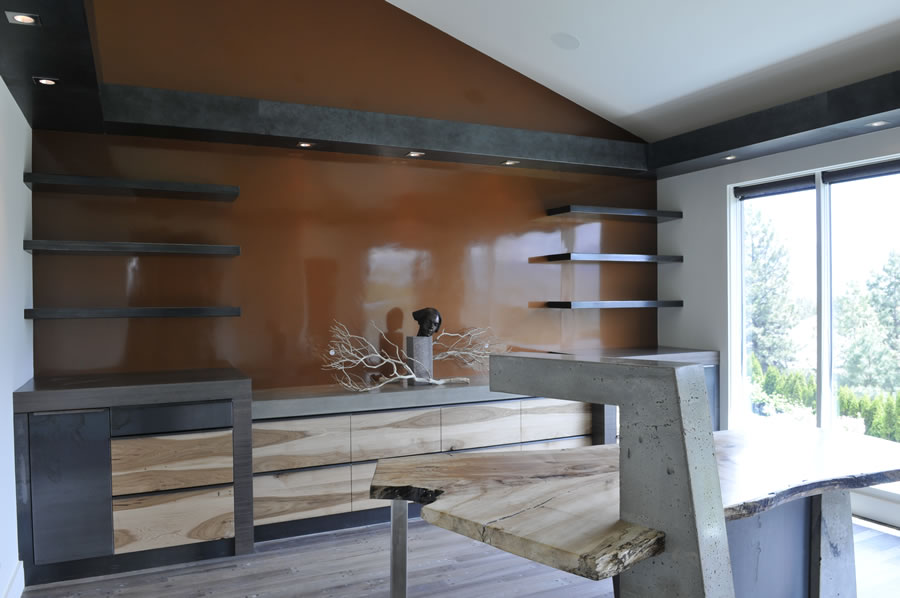 October 30, 2020
How to Refresh & Renovate Your Home Office with Custom Woodwork Design
Whether you're working remotely or have a design client who is, many people are spending the bulk of their work week in a home office. 
About 40 per cent of the Canadian labour force is working from home because of the pandemic. Even as there's talk of returning to workplaces, many employers and employees plan on continuing to skip the commute—at least part-time.
If we're spending so much time in this space to support our families and grow our careers, why not make it as comfortable and productive as possible? 
If you're someone who makes calls from the kitchen table or uses a cardboard box as a desk, it's definitely time for a workspace makeover!
Having an upgraded work area will also attract the attention of potential buyers if you decide to sell your home down the road.
Here are three ways to refresh and renovate your home office with custom woodwork design:
Discover your design style. 

From modern and minimalistic to opulent and luxurious, you've got a world of options! To help narrow down your choices, factor in your home's overall aesthetic.

You want a professional environment that separates you from distractions, but you also want this space to flow seamlessly and connect with the rest of the furniture, paint colours and decor in your house. 

Instead of gravitating towards trends, future-proof your work area by using classic design elements that will still be stylish years from now. 

Incorporating custom woodwork design into a work area is the ideal way to create timeless appeal. Here's an idea: Anchor the room with an elegant wood desk and drawers, and switch out artwork and decor if you want to keep up with seasonal trends. 

Combine function and inspiration.

Think about what you or your client will be using the space for. For example, someone who has lots of video meetings will want flattering lighting that doesn't cause a glare on the computer screen.

A person who will be frequently printing and filing documents will require a filing cabinet and desk to house their computer, printer and phone. 

However, when you renovate your home office you don't have to overwhelm the room with a big metal filing cabinet or put up particle board shelves.

Custom wood shelves and cabinets will add warmth and richness to the room and keep all of your essentials organized. They'll also add value to your property.

Get creative with colour.

Choosing paint, wallpaper, furniture and decor colours isn't just about aesthetics. Certain colours spark productivity, calm and creativity. For example, research shows that:

Orange stimulates concentration
Blue evokes calm and tranquility 
Yellow is linked to positivity and creativity
Green is great for people who work long hours, because it's the easiest colour for the human eye to see, reducing eye strain

However, it's all about the colours that make you feel productive and happy while you're working. If you love the look of a neutral beige wall or want a pop of purple to make the room feel more luxurious, go for it!

That goes for your custom wood design, too. With a wide range of quality materials and finishes available, we can work with your colour schemes and design dreams to build unique office furniture or decor. 
Although everyone is looking ahead to a post-pandemic world, we may not see a return to the traditional way of working. 
Creating a cozy, personalized workspace is beneficial now and in the future—especially as it's likely to be a prime selling point in the real estate market going forward.
I've helped many clients transform their workspaces into beautifully natural rooms that boost productivity and comfort.
Let's chat about how I can help you renovate your home office with sophisticated custom woodwork design.