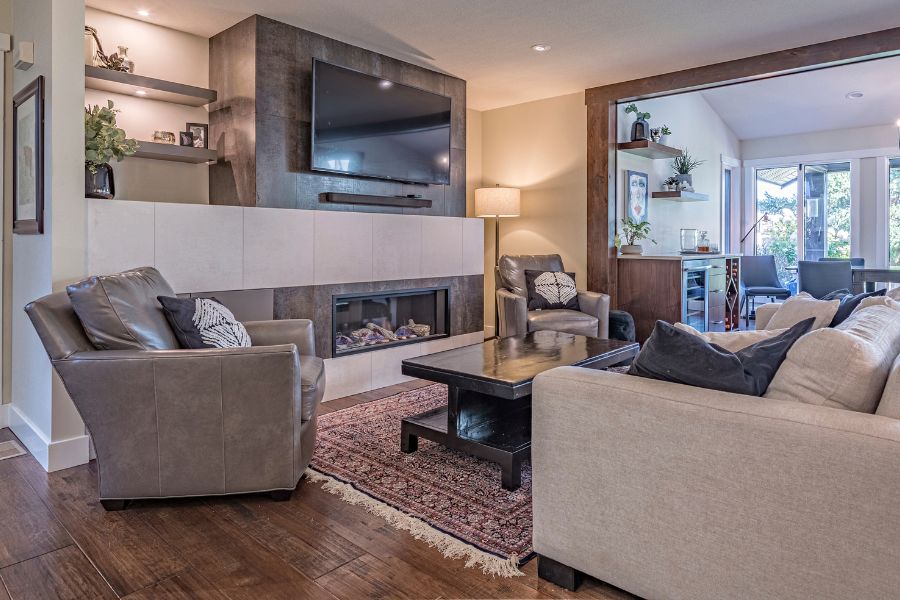 June 15, 2022
Here's What a Custom Woodwork Design is Capable of Creating
No matter who you are or where you live, you want your home to look beautiful.
And one of the best ways to add beauty, personality, and distinction to a home is by taking advantage of custom woodwork design.
But when you're trying to decide what kind of design would work best in your home, it can be tough to even know where to begin, as there are just so many possibilities.
If you work with an experienced woodworker, the options are literally limitless, and pretty much anything you can imagine can be brought into reality, so it can be very overwhelming.
Moreover, custom woodwork design offers a sizeable list of benefits for your home, including greater aesthetic value, flexibility, longevity, and return on investment, so you've got to get it right.
In any case, we've been extremely busy over the last couple of years, producing a plethora of carpentry and millwork, and we've been documenting some of our best custom woodwork designs.
We're not ones to toot our own horns, but if you're as talented as our master woodworker, Andy Ingram, you've got to be proud of what you do, and sometimes you've just got to brag.
That being said, the purpose of this article isn't to just talk about how great we are, but rather, to show people what custom woodwork design is truly capable of, and offer some inspiration for those of you who are overwhelmed by all its potential.
So, if you're looking for some insight into what custom carpentry and millwork can do for your home, then keep reading, because we're about to share some of our best and most beautiful work.
Custom Woodwork Design from Truwood
Over the years, we've tackled a ton of tough carpentry and millwork projects, for a wide variety of homes and businesses, and a range of different applications.
We're talking about everything from handcrafted kitchen cabinets and floating staircases to custom woodwork for bathrooms, bedrooms, closets, wine rooms, and media rooms, just to name a few.
Below, you'll find some of the best examples of custom woodworking we've produced over the last couple of years.
They're not overly extravagant, but these designs are beautiful nonetheless, and they should be more than enough to help you understand what custom woodwork is capable of creating for your home.
Attic Conversions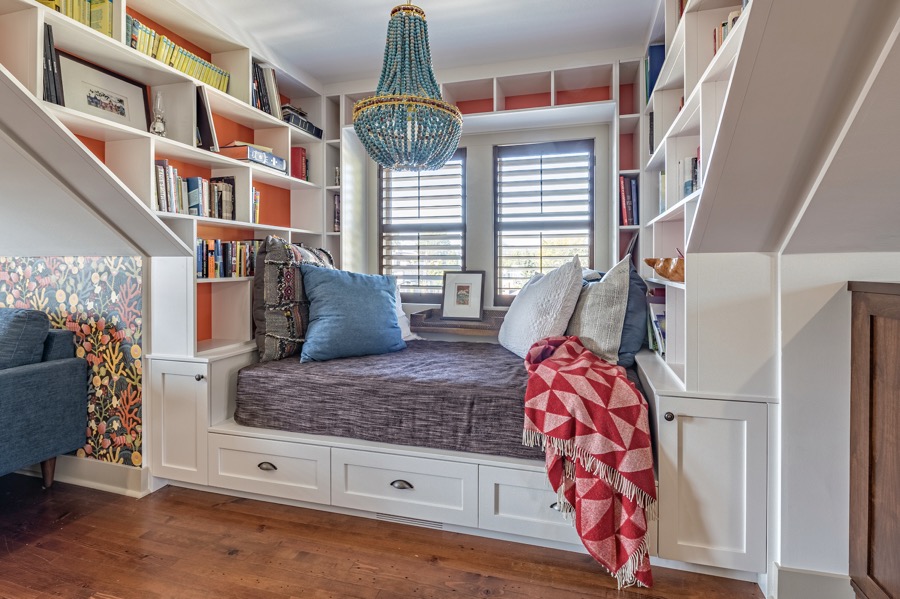 Nobody likes wasting space, and undoubtedly, one of the most underused areas of a home is the attic.
Usually, they end up as nothing more than a storage room, where mountains of boxes and old odds and ends sit and collect dust.
But with the help of custom woodworking, you can turn practically any attic into a warm, inviting room where not one inch of space has been wasted.
We converted the attic above from what was once a dingy old room, into an absolutely gorgeous and superbly functional combination of a children's library and home office.
As you can see, this is a great example of our highly efficient use of small spaces, as this day bed is lined with countless storage options, including cubbies, shelves, cabinets, and drawers.
In addition, the orange and white bookshelves display a bold use of colour, and demonstrate the importance of working with a good designer.
In the case of this attic conversion, and all of the projects featured in this post, we were lucky enough to have Barbara Katnich of Fresh Approach Designs do all the interior design work.
Kitchen Renovations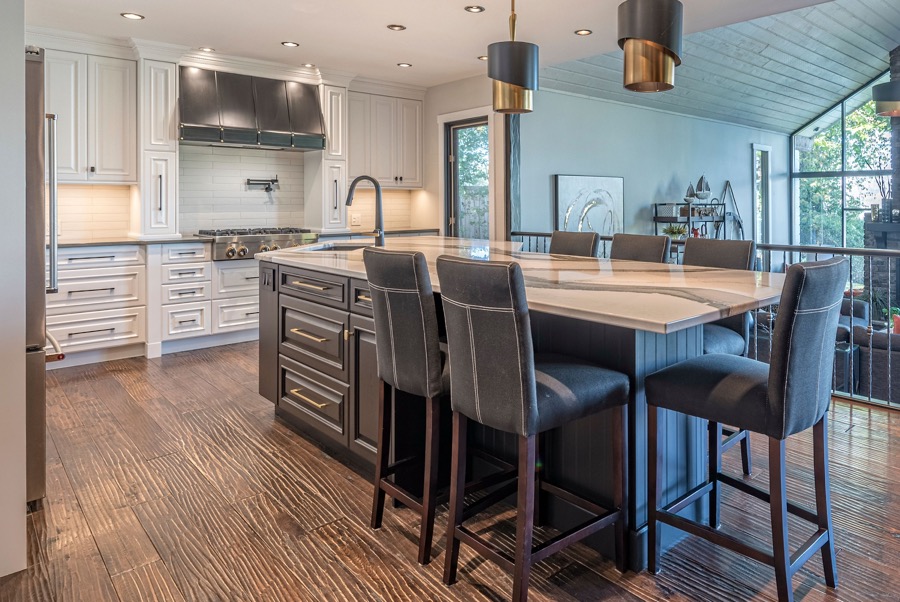 Kitchens come in all shapes and sizes, and because so much goes on in a typical kitchen, you've got to make sure the entire space is used efficiently.
That being said, when it comes to custom woodworking, kitchens can be one of the most daunting rooms to design, as there are so many moving parts, so much going on, and a ton of different options.
But it's important to mention that when you're working with a master woodworker, no matter how big or small your kitchen is, you can customize everything to be just the way you like it.
For instance, the relatively minimal space used for the kitchen above includes dozens of cabinets and drawers to maximize storage space as much as possible.
At the same time, the black base cabinets, and white uppers show how even unconventional colour contrast can add a distinct look to a room.
Speaking of efficient use of space, the image below will give you an even better idea of how a kitchen can be utilized, no matter how small it is.
Even this tiny little hallway features a ton of storage space, using every last nook and cranny to its full potential.

Bathroom Makeovers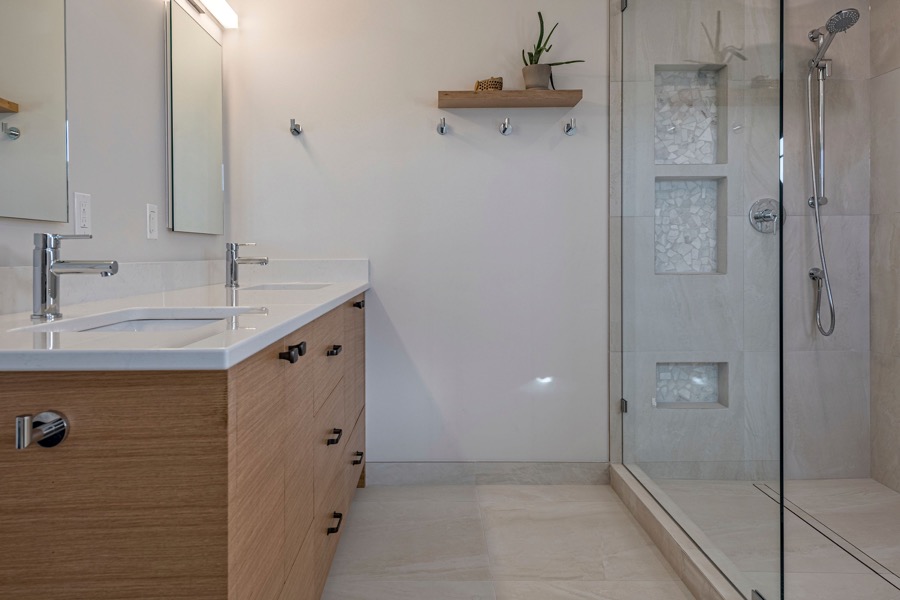 When we think about bathrooms, custom woodwork design doesn't usually come to mind, but there are many creative, practical, and attractive ways to incorporate woodworking into a bathroom design.
Using wood elements in addition to the tile, glass, mirrors, and fixtures that adorn most bathrooms can add a ton of character.
As you can see from the renovation we did above, while this bathroom only contains minimal wood accents, what it does include gives the room an enticing allure.
Simultaneously, the contrast between the neutral colours and the tone of the wood veneers adds a sense of warmth and style that you just can't get from other materials.
However, not all bathrooms need to feature this kind of bright aesthetic, and different wood grains, stains, and paints can be used to ensure wood elements fit into your bathroom décor perfectly.
The image below shows a bathroom we renovated that's basically the antithesis of the one above. It features a daringly dark colour scheme, highlighting the versatility of using wood for a bathroom design.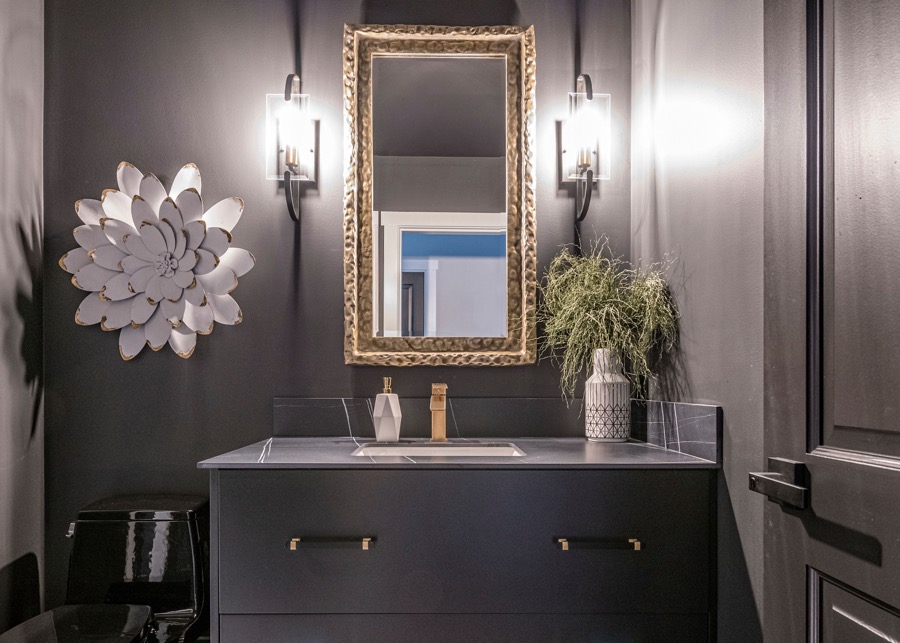 Are you overwhelmed by the number of custom woodwork design options out there? Do you want some advice on what would work best in your home? Our master woodworker, Andy Ingram, has over 30 years of experience, a wealth of knowledge, and the ability to bring pretty much any design idea into reality. If you want to learn exactly what he can do for you, give Andy a call at (250) 765-5608 or send an email to
truwood@shaw.ca
.