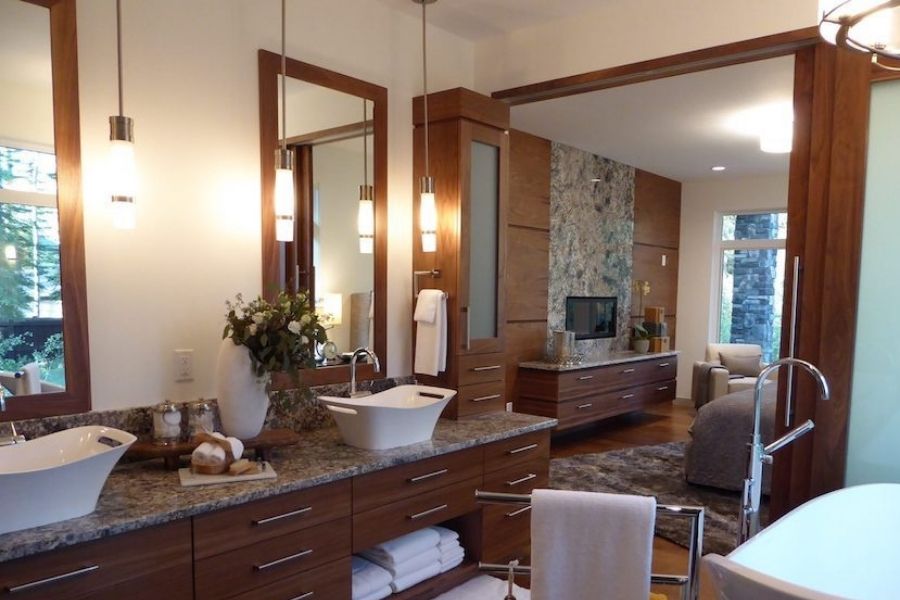 August 22, 2021
Custom Wood Bathroom Ideas
Our owner and master woodworker Andy Ingram believes that wood has beauty and grace that should be honoured. And there's no reason for that beauty and grace to stop at the bathroom door!
We regularly work with clients in British Columbia to create functional, first-class bathrooms. Here are some of our favourite custom wood bathroom ideas.
Custom Wood Bathroom Idea #1: Mixed Materials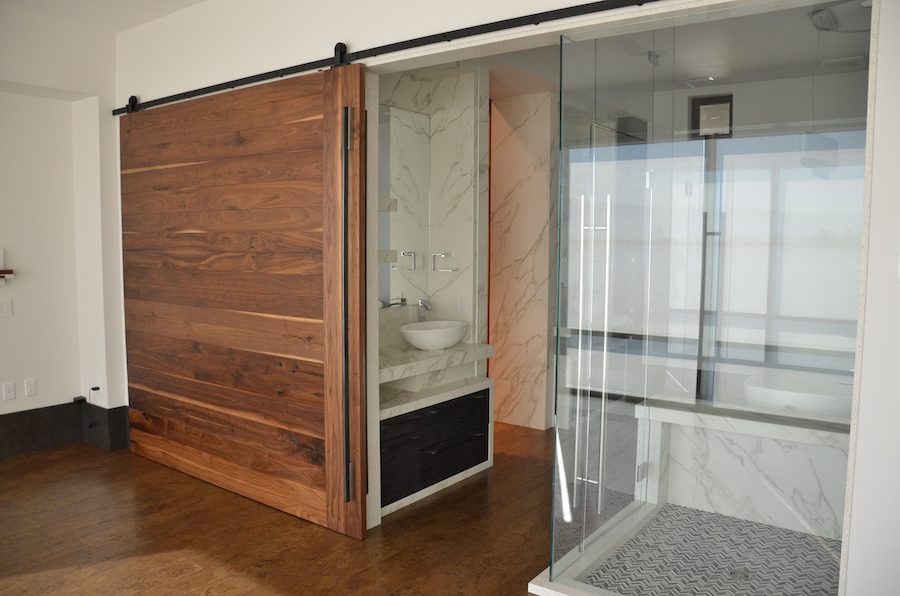 Custom wood detailing and millwork is a sure-fire way to add the 'wow' factor to your bathroom. Of course, this works best when wood is expertly combined with other ethically-sourced materials.
For example, in this bathroom Andy designed and built, custom woodwork is really only used for the sliding doors. Yet this one showstopper piece changes the whole feel of the space.
#2: Expansive Vanities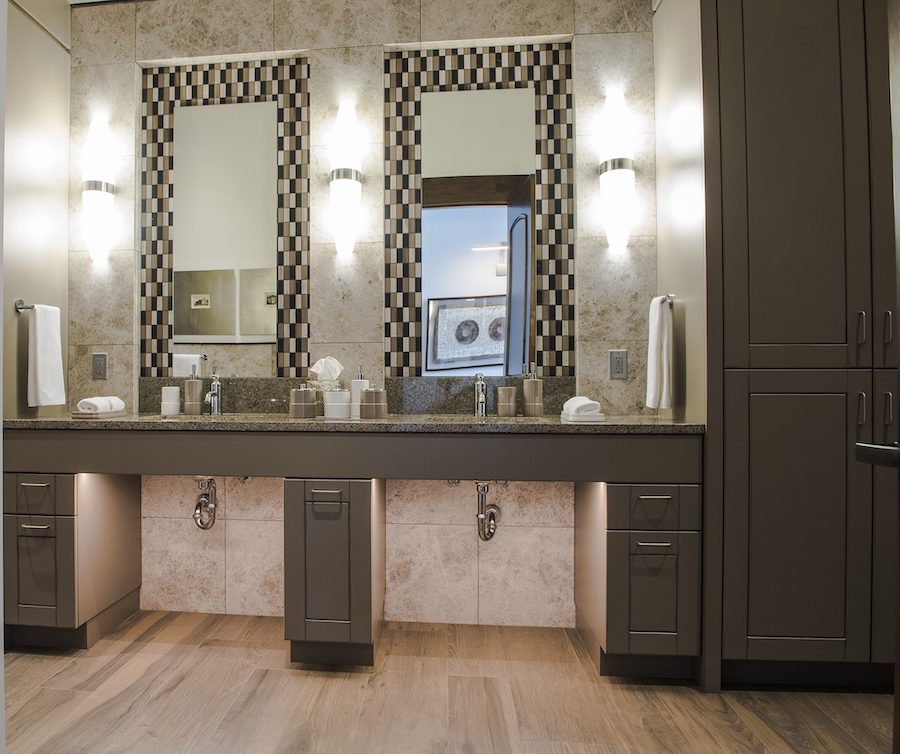 On the opposite end of the design spectrum, custom wood can be the dominant material in your design. We love to work with beautiful wood to build expansive vanities and cabinets.
We choose to work with wood that is sourced from ecologically managed forests. This means they are environmentally friendly, as well as plentiful and of very high quality. We'll happily walk you through your choices, to find something in the right colour that matches your needs perfectly.
#3: Floating Sinks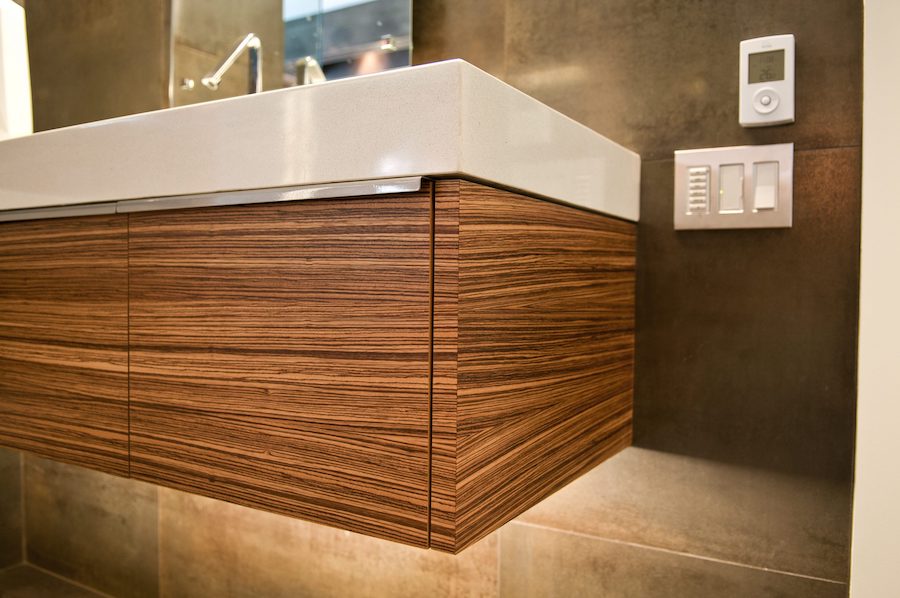 As you can see from one of our latest portfolio pieces, custom wood can be used to create gorgeous floating sinks. Floating sinks are particularly good design choices for small bathrooms, where you'd like to give the illusion of more space.
Plus, a little foot room under the sink is always appreciated!
#4: Create An Oasis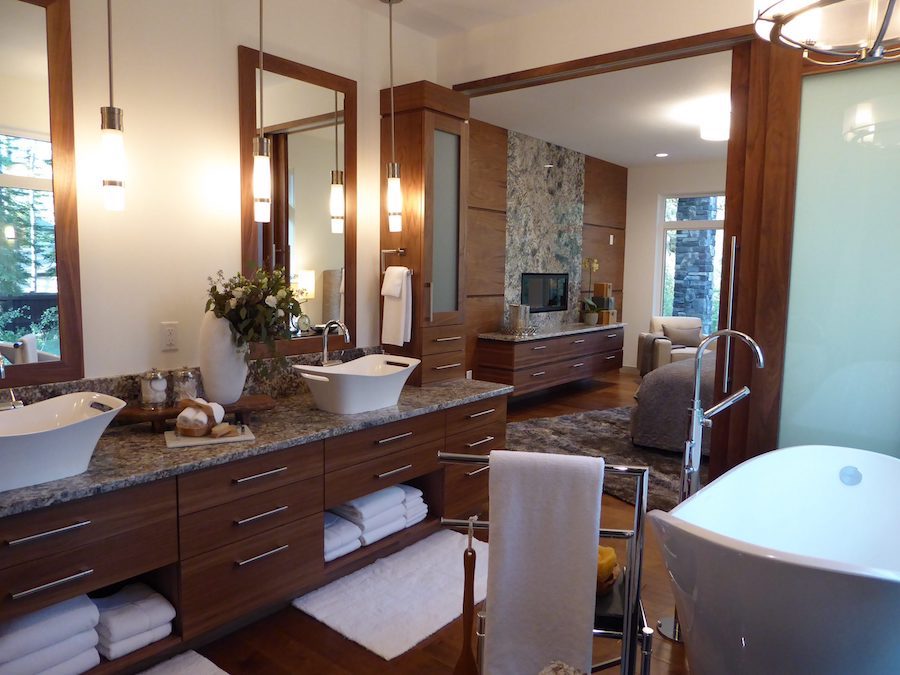 Create a mini-spa in your own home. Upgrading your bathroom with custom wood can create the perfect oasis.
Moreover, incorporating wood detailing into your bathroom design adds value to your home and makes you stand out from other sellers.
We love working with clients in the Kelowna, BC area to find the perfect wood and create the perfect design for their dream bathrooms. To get started on your bathroom project, please contact Andy at 250–765–5608 or email truwood@shaw.ca.